Getting your business off the ground can be fast and easy when you do it the right way with the support of Cloud services. But if you're not familiar with how to set up "the cloud," it can seem like a nebulous, obscure entity that looms over you and is hard to navigate. 
People say the cloud offers great potential, but how does that translate into tangible benefits for your business? Grudi can show you how the cloud can elevate your business quickly, efficiently and seamlessly.
"The cloud" refers to servers that are accessed over the internet and the software and databases that run on those servers. Cloud servers are located in data centers all over the world.
According to Salesforce.com, "Essentially, cloud computing means having the ability to store and access data and programs over the internet instead of on a hard drive. This means businesses of any size can harness powerful software and IT infrastructure to become bigger, leaner and more agile, as well as compete with much larger companies. 
Unlike with traditional hardware and software, cloud computing helps businesses stay at the forefront of technology without having to make large investments in purchasing, maintaining and servicing equipment themselves."
We couldn't have said it any better ourselves, and at Grudi, we make it happen for businesses like yours.
What services can be in the cloud?
The list of services that can be moved to the cloud is extremely long and extensive. In most cases, cloud-based services are more efficient, flexible, accessible and secure than those that don't happen within the cloud. 
Here are some of the key services you should consider moving to the cloud:
Email

File sharing

Phone system

Call center & contact center

Back-up & disaster recovery
Storage

Servers

Desktops

Software & applications

And much more
Grudi can help you decide which cloud-based services would be best for your business and help you migrate them, efficiently and seamlessly. If you don't have the in-house expertise and resources to migrate your services to the cloud, we are here to help.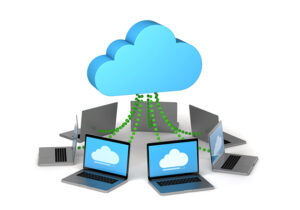 Grudi can help you avoid issues like data loss, process glitches and business interruption. Here are some of the ways we can help:
Assess your current environment, offer recommendations and provide support

Identify which services can be efficiently and effectively be moved to the cloud and which services should remain onsite

Help shift from premise-based servers and local computers to cloud-based services that allow you to work from anywhere and securely share files with anyone on any device

Transition your premise-based phone system and contact center solutions to cloud-based options that allow you to answer the phone and make outbound phone calls from any device, anywhere you have a cell signal or internet access

Migrate your onsite back-up solutions to cloud-based options that provide better security, faster restoration and  more resilient disaster recovery and business continuity


Provide better protection from ransomware and phishing attacks

Review your multi-cloud environment and identify optimization and cost savings opportunities based on current and future utilization

Perform many other services based on your specific business needs and objectives

9 Reasons to be in the cloud
Work from anywhere

– Do business from any location with internet or a cell signal and from any device (mobile phone, iPad, tablet, Chromebook, laptop, thin client or desktop). 

Flexibility & scalability

– Achieve diversified workloads and resources that can scale up or down as needed. Respond to market and changing needs much faster.

Improved security, resiliency & uptime

– The cloud makes it easy to build fault-tolerance into your infrastructure.

Improved backup & disaster recovery

– Data is extremely secure, easily accessible and quickly retrievable if necessary.

Automatic software updates

– In most cases, software updates are included with your subscription.

Improved collaboration

– Sharing documents, tracking projects and collaborating with other remote workers are much easier and more efficient through the cloud.

Cost savings

– OpEx vs CapEx means you only pay for what you need

Eco-friendliness

– Reduce energy consumption by virtualizing servers in the cloud.

Competitiveness

– Be more agile, responsive and proactive.
The cloud is yours for the taking
By 2025, it is projected that over 100 zettabytes (1 trillion gigabytes) of data will be stored in the cloud. That's half of the estimated total data storage at that time. If you don't move to the cloud now, your current technology and resources will quickly become outdated. 
If you have a concern about the security of cloud computing, know that nearly half of businesses and organizations store their most valuable and confidential data in the cloud.
Let the benefits of the cloud rain on you
Migrating to the cloud can provide a wide range of benefits to your business and help you attain a new competitive edge. If you're not already in the cloud, Grudi can provide the planning and implementation assistance you need. And if you've begun your journey into the cloud, Grudi can take you to the next level and ensure the optimal trajectory. 
Let's talk.